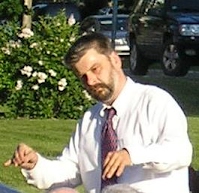 Jim Wojewoda has always loved symphonic band and orchestral music. As a child, watching concerts on public television, he was was fascinated with the different ways that conductors like Arthur Fiedler, Harry Ellis Dickson, Zubin Mehta, Leonard Bernstein, and Seiji Ozawa would paint with the range of textures and sounds. At age 10 or 11, he started borrowing scores from the library and pouring over them.  He would compare recordings of different conductors and conduct along.  As he got older he had opportunities to conduct for real — pieces he had written or arranged in high school and college.  He relished the act of shaping the composition and the players' sounds into a unique musical experience. His educational pursuits included a few years at the Crane School of Music at SUNY Potsdam.
Today, he derives such incredible joy and satisfaction through music – playing and especially conducting.  There is nothing like performing with a diverse group of people who share the love of music, and it is a thrill to conduct, to embody the music and paint with the palette of players and instruments.
Originally from Niagara Falls NY, Jim now lives with his family in Weare, NH.